Fastest Cars in the World
Cars have been a matter of fantasy for the youth and the ones who are obsessed about cars, for ages now. Many decades ago, cars were the prized possessions of only the upper strata of people in the society. With the standard of living increasing day by day and also so many hundreds of brands of cars being manufactured, owning a car has become like a piece of cake even for the middle class people. Nowadays, out of every 10 person, almost 8 of them will own a car, such an easy deal it has become.
But, even now when we see a great model of any car on the streets, or the super expensive cars we dream about, we take out a moment to stop on our way and have a look at them. Coming to speed, our highest speeds we have acquired are probably in the hundreds of car racing video games we used to play as kids and many of us play them even now. But there exist super cars like the ones in this list that hold records for being the fastest cars in the world. With superb speed and mileage, no wonder they have made it to this list. So what are we waiting for? Let us just dive in and savor this awesome read!
10. Pagani Huayra- 230 mph/ 370 kmph

At number 10 we have the Pagani Huayra, which is an Italian car, the company well known for manufacturing record breaking cars. This car has a unique class of its own and definitely commands our respect. This supercar is powered by a Twin Turbo Charged V12 6.0 liter engine from another super brand Mercedes AMG. This super engine produces 730 metric horse power of torque. With its high class Pirelli tyres, it has the power of withstanding 1.66g of lateral acceleration even at a speed of 230 miles per hour. With a seven-speed gearbox and a single disc clutch, this car was named the "Hyper car of the Year" in 2012 by the Top Gear magazine. No wonder it made its place in this record.
9. Zenvo ST1- 233 mph/375 kmph

Next we have the Danish sports car Zenvo ST1 which has a turbocharged and supercharged 6.8 liter V8 engine produces a torque of 1,250 horse power in the USA and 1,104 horse power in other countries. This sports car costs a whopping 1.8 million USD, which undoubtedly is a huge amount. The few parts of the car are so expensive and so exclusive that any repair to the car needs the car to be sent back to where it was manufactured. No other country can repair those parts, such is the aura of the Zenvo ST1. It's acceleration is 0 to 100 kmph in a time span of just 3 seconds. Wondering what all unique features this car has to offer? It boasts of keyless entry, a telescopic steering wheel, satellite navigation and the racing seats are electrically adjustable. Just wow! Isn't it?
8. Mc Laren F1- 240 mph/386.2 kmph)

This sports car was originally Gordon Murray's idea and it created the record for the world's fastest production car. The best part about this car is that it is much lighter than its contemporaries. It has a unique seating arrangement with the driver's seat in the middle and two other passenger seats. The driver's seat is ahead of the other two seats. It is powered by a 6.8 liter V12 engine manufactured by BMW. Only 106 McLaren F1 cars were produced in total.
7. Saleen S7 Twin Turbo- 248 mph/399.1 kmph

The Saleen S7 range of sports car is an American limited edition car which is handmade and is a high performance car. The original Saleen S7 car was developed in 2003 but few years later the S7 was upgraded with two Garrett turbo. Saleen S7 was the first production sports car that America manufactured and gave the other contemporary European cars a stiff competition. The entire body of the car is made of carbon fiber and uses different features to allow the split channel flow of air throughout the car. The interiors include a rear view camera, a LCD monitor and a quick release steering wheel. It reaches from 0 to 60 kmph in 2.8 seconds.
6. Koenigsegg CCR- 250 mph/402.3 kmph

This car at the 6th position was for a short time the world's fastest production sports car. With an acceleration of 0 to 100 in 3.7 seconds, this company form Sweden manufactured two similar series of this car- the CCR and the CCX. It has a more powerful engine than other cars with twin Rotrex compressors. Only 14 CCR cars were manufactured by Koenigsegg.
5. 9ff GT9-R- 257 mph/413.6 kmph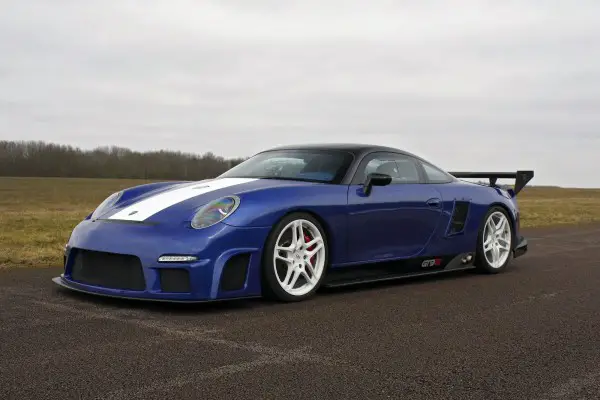 This super car was built by the German company Porsche and only 20 units of this car were produced. It is powered by a 4 liter, 6 cylindered boxer engine with a horse power of 1,120. Imagine that! All this car takes to reach to 100 kmph form start is just 3.8 seconds. Infact, the 9ff was the first street-legal racing car that crossed the 400 kmph mark in the world of racing cars.
4. SSC Ultimate Aero- 257 mph/413.6 kmph

Another American car in the list. Not bad! The Ultimate Aero held the record as the world's fastest production car by the Guinness Book of World Records. This car does not boast of electronic aids like ABS brake or traction control because its one and only focus is on the speed. It reaches form starting point to 98 kmph in just 2.8 seconds. The figure is definitely slower than the Bugatti Veyron, but not a bad number at all! It uses a Chevrolet Supercharged V8 engine with a horse power of 1,046. A testing at the NASA showed that the Ultimate Aero can attain a maximum speed of 273 mph or 439 kmph but unfortunately, the car showed some glitches at a speed above 190 mph. however, the company came up with a better and upgraded version of the car which made its way to the 4th position in the list.
3. Koenigsegg Agera R- 260 mph/418 kmph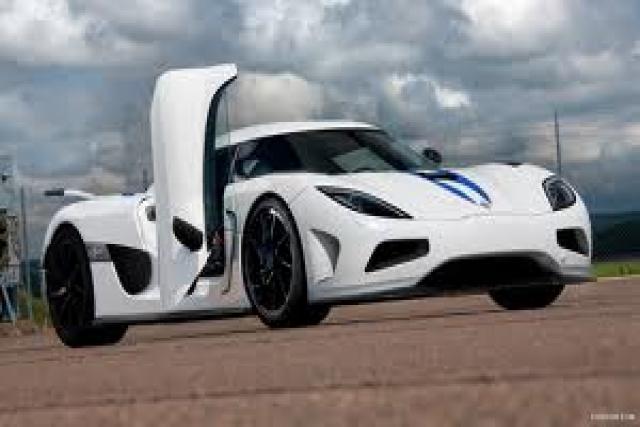 Time for the top 3 positions in the list and I'm super excited! The Swedish company has again made an entry to the list. The Agera R car actually left behind the Bugatti Veyron Super Sport though not in the speed category, but in the acceleration category. This car reached form 0 to 300 kmph and then again cane back to 0 in just 21.19 seconds. Still a big achievement. The Agera R runs on a 5.0 liter twin turbo charged V8 engine. The Agera R is made of pre-impregnated carbon fiber.
2. Bugatti Veyron Super Sport- 268 mph/431.3 kmph

Next, we have the car that has been a nightmare to all other sports car. This unbeatable super car is indeed a super car. Some loyal fans of the Super Sport will have serious problem accepting the number 2 position it is at. But trust me, the next one is a mind blower in true terms. The Bugatti Veyron SS is an effort of the Volkswagen group. There was a lot of controversy regarding the Guinness Book of World Records title but that did not deter this super car and it continues to be a prized possession by the Volkswagen group.
1. Hennessey Venom GT- 270 mph/ 434.5 kmph

At the numero uno position we have this actual super car which holds the record for the fastest car in the world. Who thought an American car could actually give stiff competition to all other cars that have been manufactured? The secret behind this car is that the man behind the idea was a boutique automaker in Texas used the parts of all other manufacturing companies to create this car. So, we can say that the Venom GT has got the best of the best. The Venom GT runs on a 7.0 liter twin turbo charged Corvette ZR1 engine. The funny part about this car is that it is so fast that it actually had to borrow the landing strip of a space shuttle form NASA. Do we need to say more?
And with this, we come to the end of this list. Whoa! The list was super exciting and these mind blowing cars are now actually on every car lover's dream list.