Indian cinema is, undoubtedly, one of the best and the largest movie producing industries in the world. It serves you with everything that you would want right from action to sentiments that would make you weep for the rest of the day and the comedy that leaves you in splits and not to forget the sizzling masala and songs that makes you groove and shake your body. Made up of an array of various sectors like the Bollywood, Kollywood, Tollywood, Mollywood and so on, it absolutely is a royal feast for any movie buff to gorge on some really excellent Indian movies. With halfway through 2015, we give you ,here, the line-up of top 10 best Indian movies that was released this year only to remain in our hearts forever!
TANU WEDS MANU RETURNS

Sequels predominantly end up being a wilt and make us feel for those 120 bucks that we would never see again. But Tanu weds Manu returns; a sequel of 2011 Tanu weds Manu, breaks that cliché and emerges as a huge commercial hit of the year 2015. With the lady superstar and a national award conferee, Kangana Ranaut rocking the lead lady role, we have Madhavan playing the male lead. Needless to say, Kangana totally the pair of dissimilar roles with such liveliness that it is difficult to tell if it is she playing the two roles. A good take on with adequate amount of twists and turns, this is surely a must-watch movie.
MARGARITA WITH A STRAW

A rational emotional drama, Margarita with a straw tells us about the life of a young girl who is affected with Cerebral palsy. Wonderfully directed by Shonali Bose, it has a perfect script along with the right screenplay that takes us on a beautiful journey, explaining the physical and emotional needs on love and lust of such a woman.  The protagonist Laila, is played by Kalki Koechlin who renders an amazing performance and is as brilliant as Laila. Kollywood actress Revathy plays her mothers who stands by Laila and support her with love through thick and thins. An emotionally arresting movie, the insolent yet heartfelt performances of Kalki and Revathy makes this movie a good watch!
BAJRANGI BHAIJAAN

An energetic high-power packed movie, Bajrangi Bhaijaan is a cross-border movie centred on a small Pakistani dumb girl, Shahida, who gets down from the train to play while her mom is sleeping and eventually misses it en route to Pakistan from Delhi. She bumps into Salman Khan, the hero, Bajrangi, an ardent Hanuman devotee who learns about her pathetic situation and decides to pull off his saviour role. His selfless mission to make the girl reach Pakistan safely forms the rest of the story clearly depicting the obvious circumstances that he would have to encounter with. A racy movie with a strong social message, Salman Khan sheds his superstar role and all his punch lines making it a movie to watch just for Salman and of course the little girl!
KAAKA MUTTAI

What would be the biggest wish for us? A Rolex watch, a Benz car, a Gucci bag or a brunch at a 5 star hotel? But, here are two little brothers from a slum whose biggest wish is to have a pizza and nothing more! A national award winning Kollywood movie from down the south, this simple yet a highly influential movie talks about the struggles and pain the boys take in to earn money to relish just a pizza. Director Manikandan made a brilliant move by narrating the story in a hilarious way that smokescreen the sadness and the pain of the movie portrays.  A simple yet a realistic movie, it strongly shows us how India prejudices people on status and appearance, something that requires an immediate call for change. The two kids innocently carry through their roles impeccably till the last scene and melt our hearts to drops.
PREMAM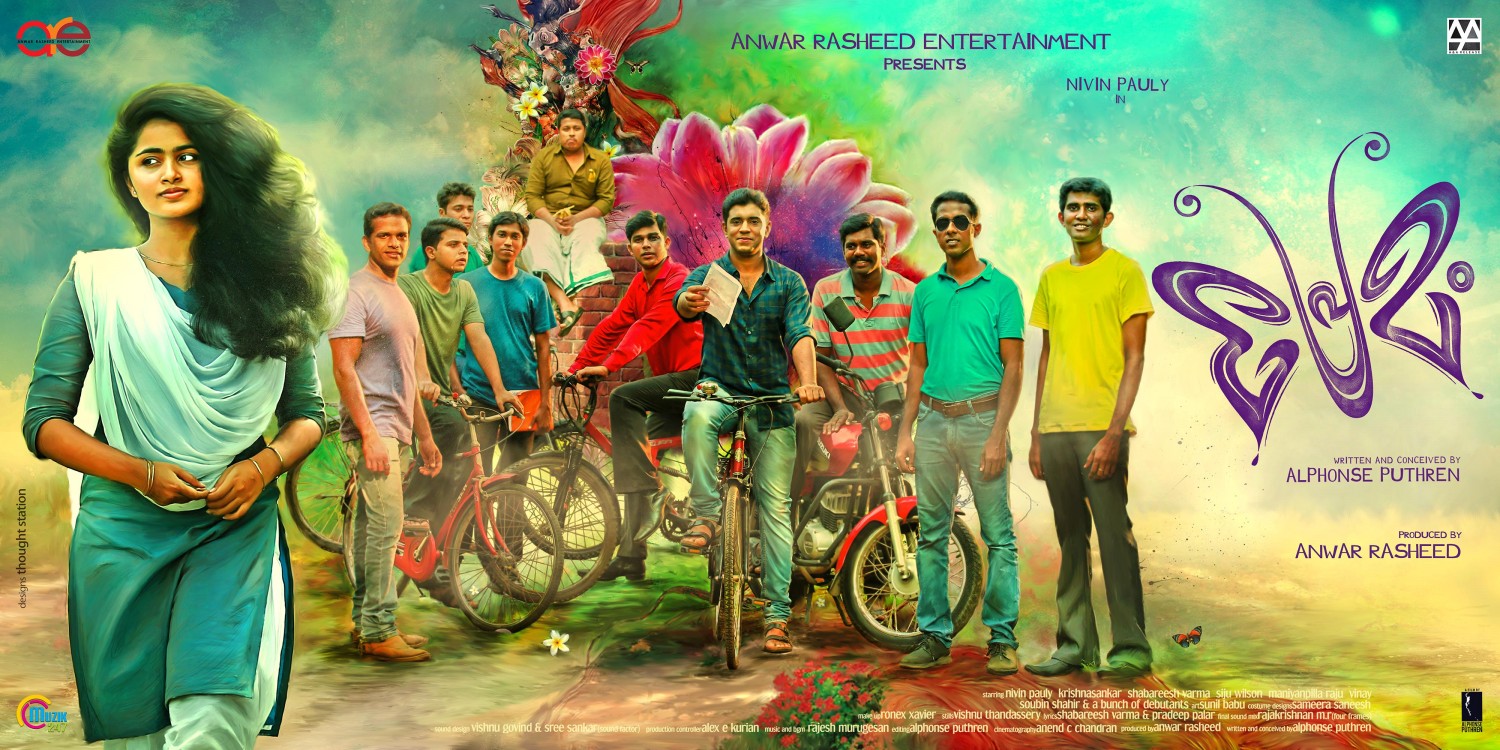 Boys can even be without a job for their entire life but love. Love makes everyone's world swirl around and turns their life into a happy hurricane. Premam, as the title suggests is a beautiful love story directed by Alphonse Putharen, that unveils the love affairs of a simple and a charming chap, George David, from his teen hood to his marriage taking you to the 90s period and giving you such a feel-good experience. Nivin Pauly as George David has done utmost justice to the role and makes us feel so connected to him that all the girls would be ready to tie knots with him. The cast of the movie is a strong reason to watch the movie as everyone is so fitting for their role that it gives us such a magical feeling as though they are our own friends. Premam with its extraordinary technical aspects, enchanting love episodes coupled with hilarious comedy track and captivating music makes it a movie beyond perfection and makes us want to fall in and experience the joy and pains of love!
UPPI 2

A sequel to the movie Uppendra , this movie starts differently with the end card and the screen goes blank for a couple of minutes and a professor talks about how edgy the brain gets with idleness and sermons about staying in the present, the root on which the film grows. A psychological thriller film written, directed by and starring Upendra in the lead role, it revolves around finding about the whereabouts of the mysterious character, Nuvvu. It is a confusing movie with logics and ideas that aren't easily understandable but the gripping screenplay camouflages it all! With Upendra's power-packed acting and some really good scenes that give us goosebumps, it is worth a watch!
PAAPANASAM

Not every remake movie can do justice to its original version and here we have Paapanasam roaring, that breaks the old chestnut. The best and the most faithful remake of the Malayalam blockbuster, Drishyam, Paapanasam promises to give us that same sense we get while watching the original movie. Reason? Yes. Kamal Hassan. The one reason that is sufficient to make us watch the movie and turn it the best remake. He proves yet another time his versatile acting skills and how ductile he can turn to suit the character fully. His screen presence, his slang and his body language, even his stare makes us want to bow towards him. A thriller that tells how a common man saves his family using his brilliance and knowledge that he acquired through cinema, from getting into the hands of police after they commit a murder forms the plot. Thrill, happiness, anguish, remorse, sentiment, plot twists makes this a must watch movie for all the families.
BAAHUBALI

A pride to the Indian Cinema, this whooping 250 crores movie is unarguably a royal feast to the eyes of the spectators. It is a period drama that tells us about the love and adventure, war and courage, betrayal and conspiracy amongst two cousins who are fighting for the throne. A very usual story with predictable scenes, this movie must be watched for its brilliant efforts in giving out such breath-taking scenes, captivating action and war sequences, the pain in paying attention to even the minute details, the colour, vibrancy and magic. With a strong star cast, director Rajamouli has weaved out a flawless epic intertwined with his skills and creativity that makes it a total worth for the ticket bucks. This is the first part that ends with a big mystery proves the director's clever move to make the audience come in to watch the second part! (Yeah! I have the same doubt, why do you think Kattappa killed Baahubali?)
THANI ORUVAN

Yet another cat and mouse scuffle between the hero and the villain, Thani oruvan is a refreshing movie where the battle amongst the hero and villain is not of violence and action but predominantly of wits and brains. Mithran, donned by Jayam Ravi, is a young IPS officer whose only goal in life is to find a worthy rival, the root cause of all other crimes — and raze him. He comes across the dashing young scientist Sidharath Abhimanyu, played by Arvind swamy, who intelligently commits all top notch crimes and sweeps us with his stylish attitude and witty brains. A thriller (with some cliché scenes) packed with the vivacious clever battle between the hero and villain makes it appealing and wah! Arvind samy shows what a comeback is! With charm, allure and killer brains, he totally steals the show!
1.RANGI TARANGA

Topping the list is Rangi Taranga, a Kanada movie that is high on the thrill factor. With the perfect dosage of mores and superstitious beliefs and a generous amount of emotions, this movie is the best thriller of the year and makes us watch the whole movie by sitting at the edge of our seats. Not compromising on romance either, Director Anup Bhandhari proves his talent by keeping us hooked with his picturesque locations that leave us amazed. With catchy songs, enthralling background score and brilliant performance from the actors' side, this movie is the perfect pick for the weekend night premiere.