Ever heard of fried brains, puffin hearts and drunken shrimps? No? Well, as much they sound gross and strange, they are considered delicacies in certain parts of this big world. Some of such strange foods in the menu may turn out to be a nightmare for you if you happen to jump into any of such places. Let just admit to the fact that the world is full of strange foods relished by mankind. So let's have a look on some of such unusual foods that have the full potential to make us literally go crazy!! Actually, these strange foods actually make us wander how little we known about eating habits of our fellow humans.
10. Fugu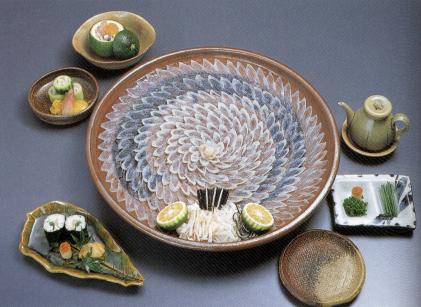 A Japanese dish Fugu is one of the most expensive delicacies therein. While most people do not actually consider dying during their daily meal yet eating Fugu might just turn this consideration completely topsy-turvy. One of the strangest foods indeed, Fugu is a Japanese pupperfish that contains enough poison to kill as many as 28-30 people. It is also one of those foods which is not very easy to tackle. The chefs who prepare the dish are provided with or rather are strictly required to undergo a training of several years to master this dish. Usually consumed in the season of October to March when Fugu is in abundance the delicacy is served in a stew, grilled or as a paper-thin sashimi. Any small mistake in the preparation of the dish can lead to sureshot but untimely death to any customer.
9. Fried Spider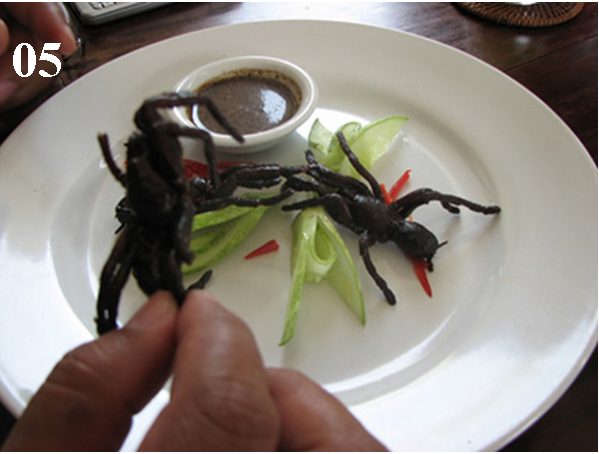 A speciality hailing from the town of Skuon of Cambodia Fried Spiders or creepy crawlies are one snack that you may categorize simply into the street-food category. One of the surely strangest foods in the world, these are cherished and loved by all around and in Cambodia as a quick snack. They are deep fried in garlic oil till they are perfectly crunchy on the outside and soft inside. These spiders are typically of Tarantula sub-species of spiders which are known for their "getting high" properties. This food is also known for its presence of protein in itself. Many consider the Italian folk dance Tarantella to be derived from the bite of these tarantula spiders only that are so poisonous that lead to a hysterical condition – all duly in association with the "getting high" properties of this dish.