Ever heard of fried brains, puffin hearts and drunken shrimps? No? Well, as much they sound gross and strange, they are considered delicacies in certain parts of this big world. Some of such strange foods in the menu may turn out to be a nightmare for you if you happen to jump into any of such places. Let just admit to the fact that the world is full of strange foods relished by mankind. So let's have a look on some of such unusual foods that have the full potential to make us literally go crazy!! Actually, these strange foods actually make us wander how little we known about eating habits of our fellow humans.
10. Fugu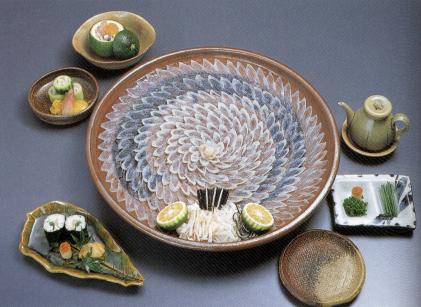 A Japanese dish Fugu is one of the most expensive delicacies therein. While most people do not actually consider dying during their daily meal yet eating Fugu might just turn this consideration completely topsy-turvy. One of the strangest foods indeed, Fugu is a Japanese pupperfish that contains enough poison to kill as many as 28-30 people. It is also one of those foods which is not very easy to tackle. The chefs who prepare the dish are provided with or rather are strictly required to undergo a training of several years to master this dish. Usually consumed in the season of October to March when Fugu is in abundance the delicacy is served in a stew, grilled or as a paper-thin sashimi. Any small mistake in the preparation of the dish can lead to sureshot but untimely death to any customer.
9. Fried Spider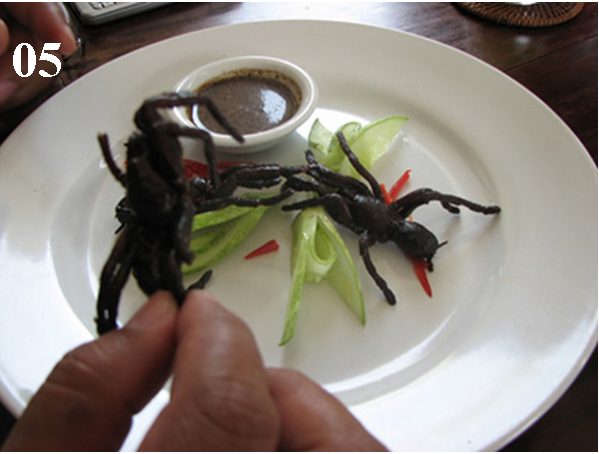 A speciality hailing from the town of Skuon of Cambodia Fried Spiders or creepy crawlies are one snack that you may categorize simply into the street-food category. One of the surely strangest foods in the world, these are cherished and loved by all around and in Cambodia as a quick snack. They are deep fried in garlic oil till they are perfectly crunchy on the outside and soft inside. These spiders are typically of Tarantula sub-species of spiders which are known for their "getting high" properties. This food is also known for its presence of protein in itself. Many consider the Italian folk dance Tarantella to be derived from the bite of these tarantula spiders only that are so poisonous that lead to a hysterical condition – all duly in association with the "getting high" properties of this dish.
8. Prarie Oysters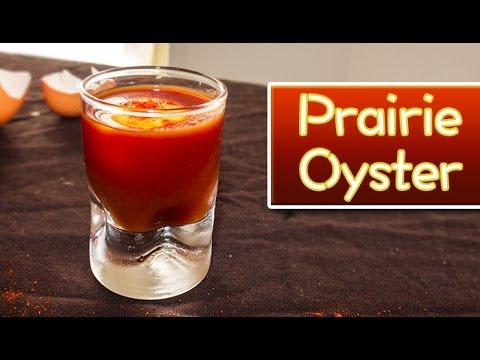 Not at all related to oysters in any possible ways Prarie Oysters is a delicacy from Canada. Also known as Rocky Mountain Oysters the dish is made of bull testicles. Prepared in sauteed, fried or stuffed manner, the testicles are served with herbs, spices and sauces for a real taste of cowboy delicacy. Alberta and Calgary in Canada are the best places to get a taste of this dish which is considered nothing less than an exquisite delicacy. Loved and cherished by all Canadians, Prarie Oysters sits at number 8 on our list of Top 10 strangest foods in the world.
7. Balut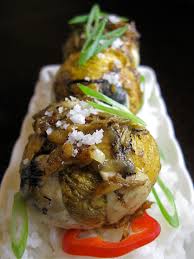 Hailing from Philippines Balut is nothing but a dish made out of eggs. Wandering what's so strange about this food? Balut is a duck embryo that is boiled when it is still alive in the shell. Eaten with a seasoning of chilli, garlic and spicy herbs along with vinegar, all the contents of the egg are consumed including the visible wings and the beak. It is considered a street-snack delicacy cherished with a can of beer. One of the strangest foods for sure Balut is a preferred delicacy across the globe as well.
6. Haggis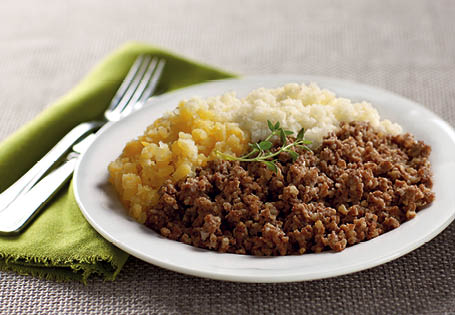 Haggis is considered as the national dish of Scotland. And it surely deserves a mention in the list of strangest foods in the world. The dish is a mixture of sheep's liver, heart and lungs with onion, oatmeal and garlic and other spices. Traditionally the preparation is done by stuffing the sheep's stomach and dates back to  as old as 15th century. It is cherished with a glass of beer or whiskey which enhances its taste to a different level altogether. Regular accompanies also include foods like mashed potatoes and turnips also called tatties and neeps.
5. Sannakji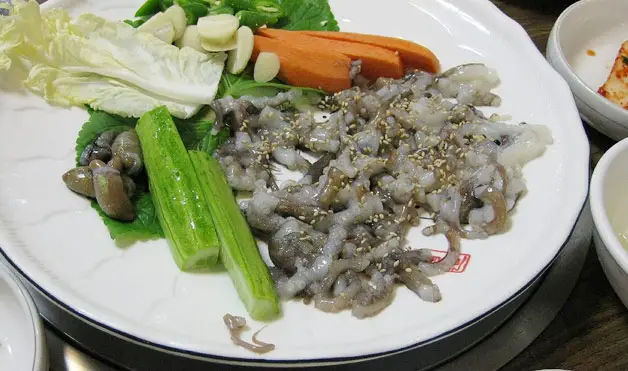 A South Korean delicacy, this is one of the most famous unusual dish that world has ever known. Sannakji is live octopus eaten whole or in pieces depending on the size of the octopus. Usually served raw with a seasoning of sesame oil the speciality of the dish is that it is serve "fresh" – so fresh that the tentacles literally move on the plates!! As exciting as it sounds there is a whole level of risk involved in eating this dish as the tentacles may choke the food tract while consumption. May be 5 more years down the line and I can literally foresee Sannakji occupying the numero uno spot in the list of strangest foods in the world.
4. Escamoles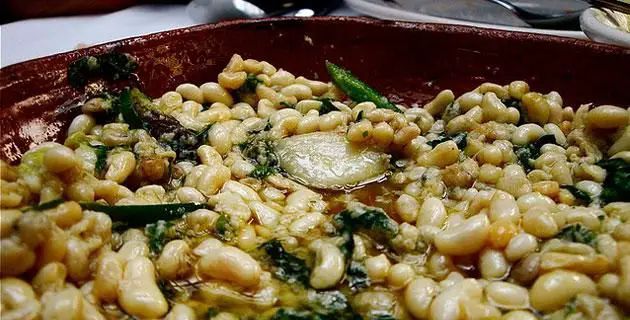 Made of ant larvae Escamoles is a native Mexican dish that looks like grain salad. Also known as insect caviar, eggs are harvested from the roots or rather the root systems of maguey and agave plants. These are deep-fried and relished for their crunchiness often tossed with a flavor of butter. Listed at number 4 on the list of strangest foods Escamoles is quite a favorite snack item in Mexico.
3. Hàkarl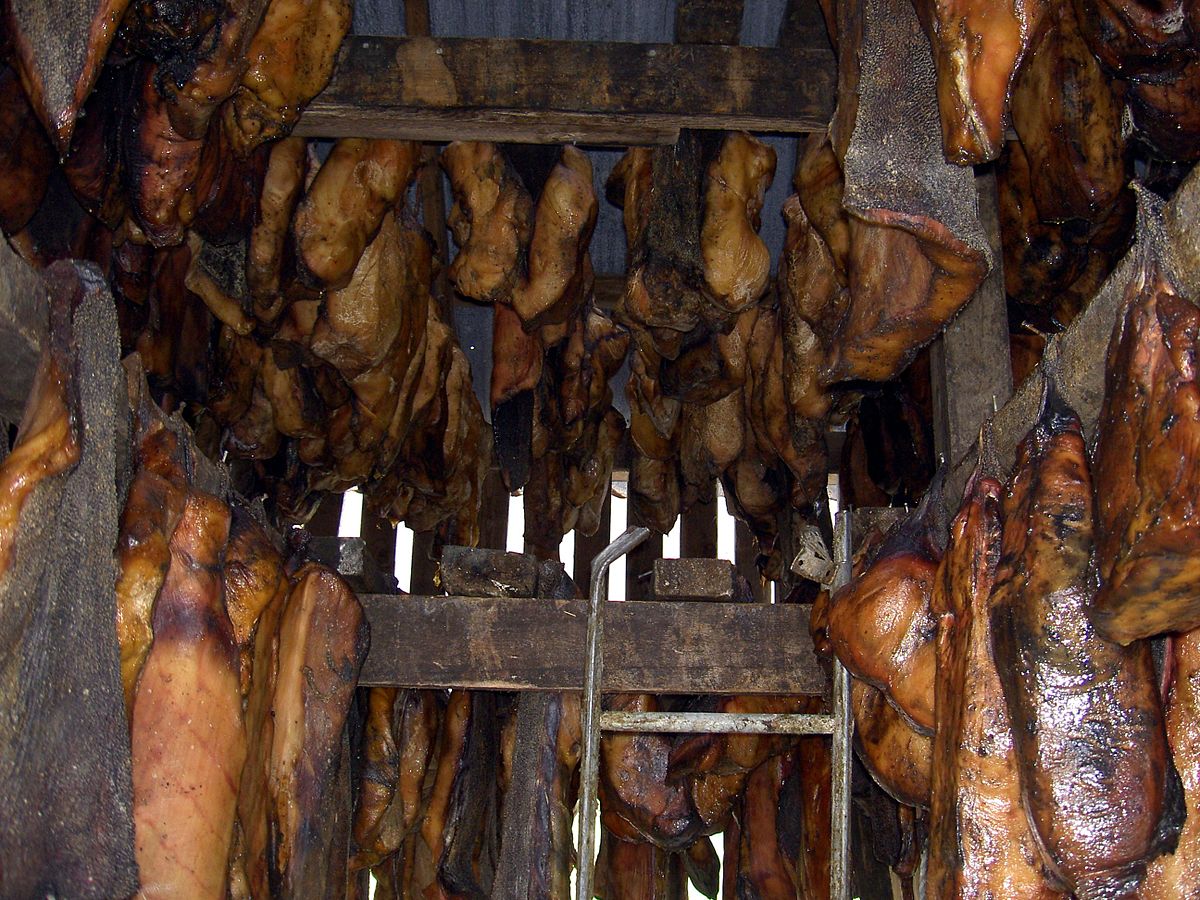 Hàkarl
Anything rotten is surely gonna sound disgusting, but if eaten fresh, it is a sureshot call to your death. This is the case with sharks in Greenland, which are highly poisonous if eaten raw and fresh. Yet, it is considered as a delicacy, and consumed after it has been fermented and decayed well enough. This reduces the poison level to a negligible level and makes the fish edible; but this comes with a somewhat stinky smell. As much as this is one of the strangest foods in the world, hands down to the fact that it is one of the stinkiest foods in the world for sure.
2. Fried Brain Sandwiches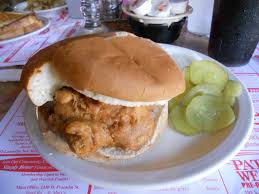 Hailing from the lands of United States of America, Fried Brain Sandwiches reign happily on the menu card alongside other regular American popular snack such as french fries. Cherished across the globe Fried Brain Sandwiches are made from sliced calves of pig brains that have been battered enough in a well-mannered way and deeply fried in oil till reached the perfect level of crunchiness. High on calories these sandwiches are served with mustard sauce and pickled onions. With pig brains being literally served on your plates this surely deserves a mention in the list of unusual foods in the world.
1. Casu Marzu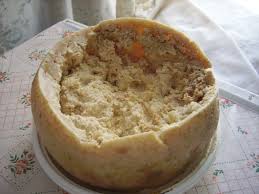 As delicious as it may sound this dish looks good as well in its first appearance. Creamy and soft Casu Marzu is nothing but cheese made out of sheep's milk. But the twist in the tale comes with the fact that this creamy ball of cheese actually contains thousands of live maggots!! An Italian delicacy Casu Marzu is prepared by allowing flies to lay eggs on it with its top being cut to let the flies have an easy access. When the eggs hatch the larvae makes it way through the centre of the cheese automatically softening the usually hard part in the middle. Even though cherished as a delicacy the aftertaste of this pungent cheese lasts for several hours making it one of the gross and unusual yet popular foods across the globe. Okay… so with all those maggots scribbling inside Casu Marzu surely deserves to be at no. 1 on the list of strangest foods of world.
Phew!! With so much talking of foods I surely feel hungry right now. While many of these foods sound or appear gross, they are surely cherished by people somewhere in this world itself. As foods represent the culture of a place, these foods are also a carrier of the culture of the place they belong to. It is as if these foods literally speak of lifestyle and living of their place. And availability and consumption of these foods mark an exchange of distinctive culture that comes together. These foods stink, are gross yet they have been a part of human civilization since its inception. It is many of our habits to demean certain community because of the foods they eat. This is definitely wrong. Since availability of foods in a place determines the lifestyle of it's residents.
And those who still are wandering how can people actually eat the above listed foods… or for those for whom this was not enough; then listen to this. The human flesh is certainly one of the strangest foods in the world. Consumed by humans and non-humans alike human flesh is said to be the tastiest foods as well high on every required nutrients. Though cannibalism is and will always remain an unusual thing yet we can't deny that it was once a reality. So, finally found THE Strangest Food, huh??!! :-p
Dont forget to follow us on twitter at: @OhTopTen
Thanks for reading!
Do you want latest top 10 list straight to your inbox?
Thank you for subscribing.
Something went wrong.